The DS-7002 Training/Internship Placement Plan (T/IPP) is required (by J-1 regulations) for all exchange visitors in the categories of Intern, Trainee, and Student Intern.


Student intern signs here.
The student intern should agree to the Form DS-7002 Training Plan before the department submits a request for J-1 visa sponsorship.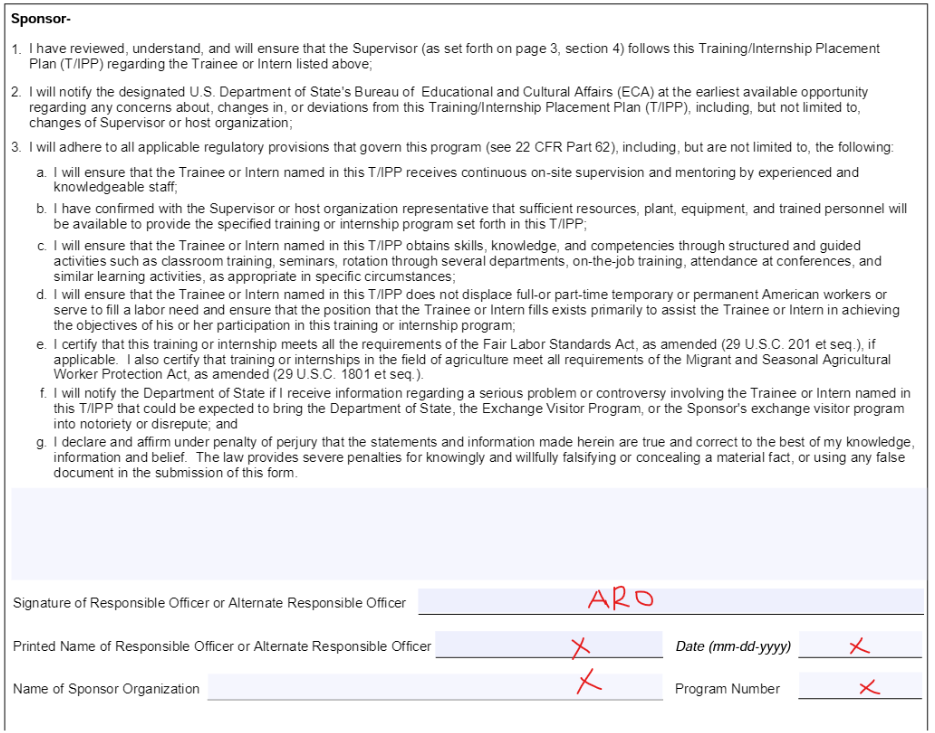 ISSS staff signs here.
This section needs to be completed by the faculty host.
The Exchange Visitor is: Student Intern
Program Sponsor: Texas A&M University
Program Number: P-1-00260
Main Program Supervisor/POC at Host Organization + Title: full name of supervisor or PI
Supervisor Contact Information:

Phone
Email
Fax

Phase Site Name: name of specific academic departments
Training/Internship Field: use the specific field of the internship
Phase Site Address: the hosting department building or laboratory address. This address should be the same as that of the primary site of activity
Phase Name: Student Internship
Start Date of Phase
End Date of Phase
Phase: 1 of 1 if only one internship phase
Description of Trainee/Intern's role for this program or phase:

This should be a broad description of the student intern's role in this internship where you explain the student's main responsibilities and what role they will fill within the department/lab.
Must have 2 or 3 sentences.
Examples: "the student intern will be in charge of..." or "the student intern will be responsible for..." or "the student intern will take part, be involved in... etc."

Specific goals and objectives for this program or phase:

This section should be focused on describing what the student intern hopes to accomplish, what they will learn, and how this will help the student complete their degree at home university.
Must have 1 or 2 sentences.
Examples: "the objective of this internship is to provide the student intern with research experience that will be used to complete the requirements for their degree at their university."

Please list the name and titles of those who will provide continuous (for example, daily) supervision of the Trainee/Intern, including the primary supervisor. What are these persons' qualifications to teach the planned learning?

Include the daily supervisor and overall supervisor if they are two different individuals. This section should include not only the name of the supervisor(s) but also a brief description of their professional and academic backgrounds.
Also include how the student intern will be supervised, for example, how often they will meet, what will be discussed, etc.
Must have 1 or 2 sentences.

What plans are in place for the Trainee/Intern to participate in cultural activities while in the United States?

Providing the student intern with an American cultural experience is a requirement as part of their internship program. Provide a couple of examples of cultural activities you will facilitate for the student intern.
Must have 1 or 2 sentences.
Examples include campus sporting events, department-sponsored social events, lab groups gatherings (dinners, going out to movies, trips to surrounding cities, Houston, Austin, Dallas, etc.), museum visits, BBQ/picnic, First Friday in downtown Bryan, visit to Bryan or Sommerville lakes, visit local cultural festivals, attend concerts on campus or in the community, etc.

What specific knowledge, skills, or techniques will be learned?

In this section, the faculty host should outline in details the skills, techniques and knowledge the student intern will be learning.
Must have 2 or 3 sentences.

How specifically will these knowledge, skills, or techniques be taught? Include specific tasks and activities (interns) and/or methodology of training and chronology/syllabus (Trainees).

In this section, the faculty host will describe how the internship will be conducted and include specific tasks and projects the student intern will be given and taught to complete. Student interns are encouraged to audit classes, attend seminars and lectures, interact with professors, research staff, and graduate students that are relevant to their research field and will be beneficial to their internship.

How will the Trainee/Intern's acquisition of new skills and competencies be measured?

In this section, the faculty host should provide information on how they will evaluate the student intern's performance and monitor their progress to ensure that the goals and objectives stated on this form are met.