Define Your Goals
This is a key step in determining which program will work best for your academic and professional goals and convince family members the value of study abroad.
What do you want to get out of your abroad experience? Do you want to learn a new language? Participate in a practicum or internship related to your future career?
Meet With Your Advisor
Work with your academic advisor to ensure that you are staying on track academically and help you strategize your prerequisites for the education abroad courses.
Your program's education abroad advisor can go over all of the details of the program such as: finances, billing, and questions about the program.
Do Your Research
Research the program and the host country on your own as well!

Speak with other students and faculty leaders
Look up information online or in books

Knowing more about your host country can help you narrow down your choices to find the best fit for you!
Plan For Expenses
The earlier you begin to plan how to finance your program, the better!
The program fee and some other costs, such as the international flight and travel documents, are due over the course of the previous term(s) and before financial aid is disbursed.
Some external scholarships have application deadlines several months in advance, and you do not want to miss out on those opportunities!

The Money Education Center is a great place to start as you work on budgeting for education abroad and planning out scholarships.
Establish A Support Network
Having a network of friends, families, peers, mentors, or other individuals who support your decision to go abroad can help you feel more comfortable about stepping out of your comfort zone and can encourage you to make the most of your experience.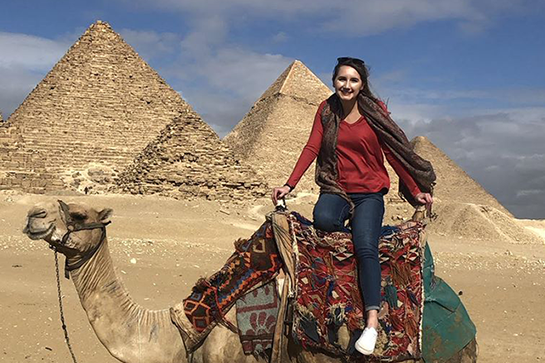 Ashlyn Bain
Studying abroad twice helped her find community and the connections she made had a positive impact.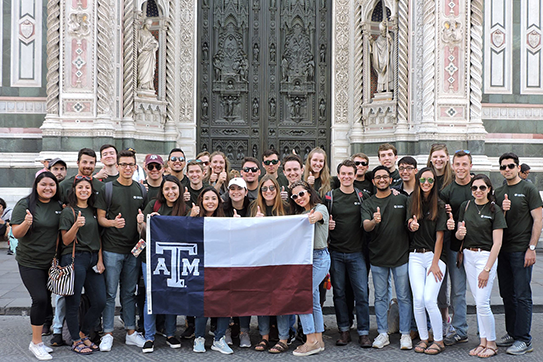 Xchel Diaz
"Imposter Syndrome" is a phenomenon that many people have to deal with while abroad. Community abroad assisted him through it.
A&M Money Education Center – provides resources and information regarding finances and budgeting to Texas A&M students
Diversity Abroad Network – education abroad tips and resources for first-generation students – including articles and a comprehensive guide with country specific information.
I'm First! – provides blog posts by first generation students about their education abroad experiences
GoAbroad Meaningful Travel Tips and Tales provides ebooks that address specific topics:
Routh First-Generation Center - Provides resources and support for first-generation students.